Home


Fly a Plane


Flight Training


Tiger Moths


Formation Flights


Piper Cub


Warbirds


Aerobatics


Top Gun


Balloons


Fly a Helicopter


Skydiving


Fly a Spitfire



Safety First


About Us


Testimonials


Contact Us


Strictly Flying
This website is run by the pilots who fly the aeroplanes which is why our prices are free of agents commission or brokerage fees.
We don't sell any other activity.

Strictly
around London and the South of England.

Strictly
attractive gift vouchers!

We are involved with all the flying companies and operators on this site, either as pilots or operations staff. We demand that they conform to the most stringent safety regulations often over and above those laid down by the Civil Aviation Authority. Rest assured that all the pilots are professional pilots and Instructors, with all the appropriate qualifications and experience levels.


Be "Maverick" - Top Gun For a Day!
As they say - "come and have a go if you think you are hard enough!". This is the ultimate adrenaline experience. Take a an ex-military instructor (perhaps an ex Red Arrow if you are lucky), exacting levels of professionalism & safety, some of the world's most extreme aerobatic aircraft and put that together for some serious excitement as you chase around the skies attempting to intercept your opponent!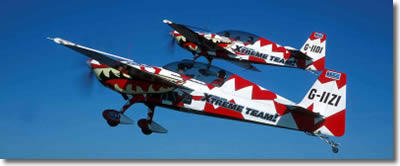 "...the whole package from the instructors, the planes and of course the flight were awesome - the best fun you can have with your clothes on!! " - Russel AKA "Maverick"
Top Gun Extreme Flight Experience Voucher - Bulldog
Location: Kemble, Gloucestershire
Top Gun Extreme Flight Experience Voucher - Extra 300
Location: Kemble, Gloucestershire

Fly a Plane
30, 45, & 60 mins
from £89
Tiger Moth
20, 30, & 45 mins
from £175
Formation
30mins
from £325 for 2
Piper Cub
30mins
from £145
CAP10 Aerobatics
15 & 25 mins
from £160
Cessna Aerobatics
30 mins £105
Harvard Warbird
20, 30, 40 & 50 mins
from £375